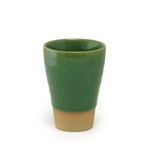 Tea cups
Our Japanese tea mugs and tea cups are all made in Japan.
Zero Japan's tea cups, for example, come from Mino, one of the pottery regions in Japan. For around 1300 years, clay has been found here that is so refined that it almost resembles porcelain.

And have you seen the funny maneki neko tea cups, they bring good luck!